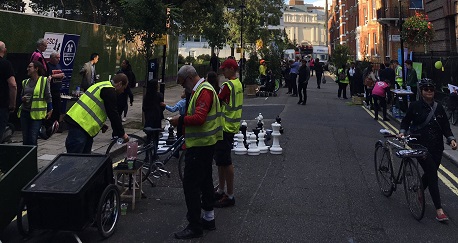 CRP celebrates World Car Free Day 22nd Sept
29th September 2017 / Posted by CRP Team
Cross River Partnership celebrated World Car Free Day on 22nd Sept with a Community Green Street on Luxborough Street in the Marylebone Low Emission Neighbourhood.
The car free theme started from ensuring that items for the green streets were delivered using a zero or low emission method. The street was turned into a green street complete with parklets, trees, electric bikes and a pop-up gym.
For our green fingered visitors there were planters available to plant some air quality friendly plants, with some games such as a giant chess board for entertainment. It wasn't just all fun and games, we also used the opportunity to raise awareness and allow visitors to learn more about what a Low Emission Neighbourhood is and the plans for Marylebone.
It was great to see so many of our partners also promoting action on the day.
See our Storify for a selection of tweets and actions taken by CRP and partners.