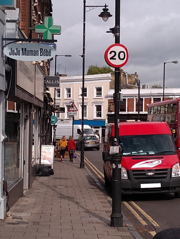 Crouch End – Air Quality Business Engagement Project
10th December 2018 / Posted by CRP Team
Cross River Partnership (CRP) has recently delivered for the London Borough of Haringey an air quality business engagement project, between February and November 2018.
Working towards Haringey's air quality improvement efforts, CRP has been engaging with local businesses in Crouch End to help raise awareness of air pollution amongst the business community and reduce individual business emissions.
Over the past 10 months a total of 59 businesses completed an air quality survey and 24 businesses have had one-to-one in-depth discussions with CRP regarding their practises.
Suggestions for solutions included the implementation of low/zero emission delivery vehicles, the introduction of a low emission preferred supplier scheme and the opportunity for businesses to be able to re-time deliveries to quieter periods.
For more information, please contact Kiran Kumar.