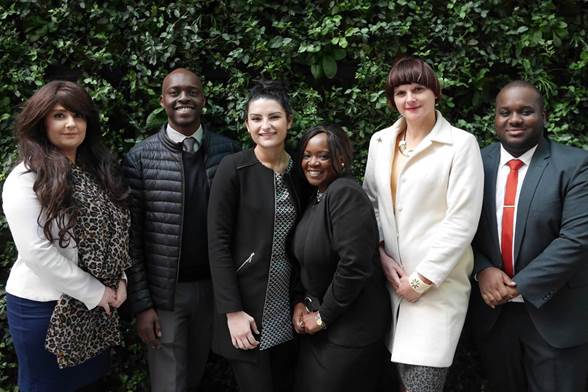 Cross River Partnership welcomes new recruits
26th October 2015 / Posted by CRP Team
CRP is thrilled that we have three new starters who will deliver our Recruit London project: Benjamin Laryea, Thomas Wagaine and Sylvia Kankasa.
The team are pictured, from left to right: Isabelle Benard – NWEC Workplace Coordinator, Thomas Wagaine – Crown Estate Workplace Coordinator, Nikoletta Gjergji – Project Support Assistant, Sylvia Kankasa – Specialist Workplace Coordinator, Claire James (CJ) – Recruit London Delivery Manager, Benjamin Laryea – Capco Workplace Coordinator
Benjamin Laryea, is a Workplace Coordinator who will be based at Capital & Counties CG Ltd (Capco), our newest Recruit London project partner. Ben previously worked for Communities into Training and Employment (CITE) as their Pre-Employment & Training coordinator, responsible for the delivery across London, predominantly working in the fields of Health & Social Care and Customer Service. Contact him on blaryea@westminster.gov.uk.
Sylvia Kankasa is our new Specialist Workplace Coordinator, supporting Westminster residents with disabilities, health conditions or barriers to work. She will work closely with businesses to encouarge them to offer tailored employment opportunities to meet residents' needs. She has previously worked for London CRC Probation as an Employment Consultant, and at the charitable organisation Drive Forward Foundation as Operations Manager. Contact her at skankasa@westminster.gov.uk.
Thomas Wagaine is our new Workplace Coordinator based at The Crown Estate, and will support residents into work with their occupier businesses. He has previously worked at Olmec providing employment support to Metropolitan Housing residents, and at West Herts College as a Student Support Advisor. Contact him at twagaine@westminster.gov.uk.