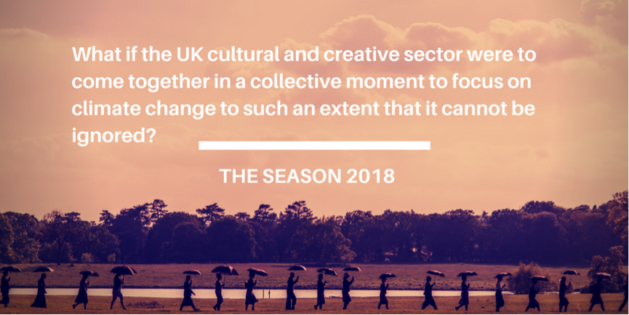 Climate Season
30th March 2017 / Posted by CRP Team
Joining 80 major arts organisations and festivals across the UK, CRP has signed up to be part of The Season 2018 which bridges together the creative and cultural community in celebrating the environment and inspiring action on climate change.
Taking place from June 1st to December 1st 2018 and led by a steering group including Julie's Bicycle, BAC and ArtsAdmin, this UK based, internationally connected initiative titled 'The Season' is ever growing and programmed to coincide with the landmark COP24 global climate talks due to occur November 2018.
The Season will celebrate the widest range of creative responses to climate change and the environment across arts, design, broadcast, film, fashion, music and in museums, galleries, theatres, venues, cinemas, festivals, parks, schools, and on the streets.
Click here for further information.