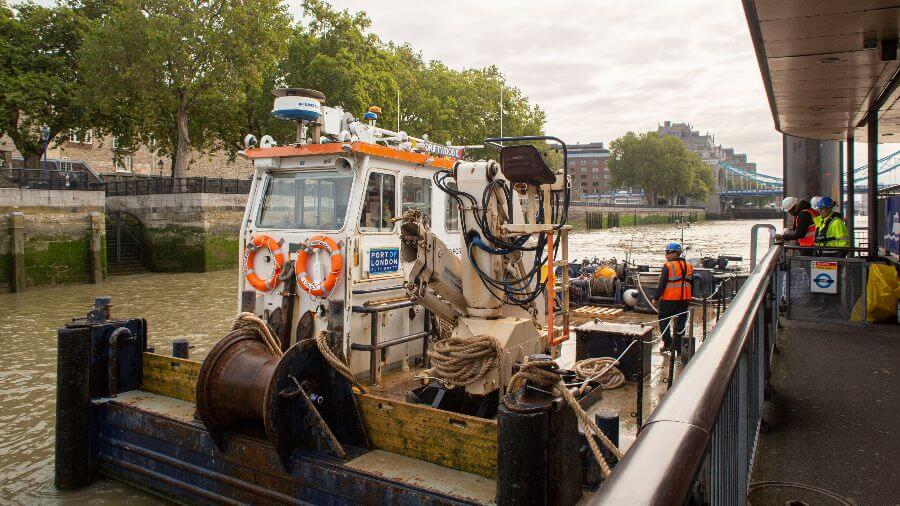 Clean Air Thames Launches Round 2 of Vessel Retrofit Funding 
8th December 2020 / Posted by Sefinat Otaru
CRP is pleased to announce a second round of funding to retrofit vessels operating on the Thames to reduce their emissions. We will be accepting applications until 12th February 2021.
Clean Air Thames is a three-year scheme to retrofit inland vessels to reduce emissions. £500,000 has been granted by the Mayor's Air Quality Fund to help operators retrofit their vessels with post-exhaust treatments to reduce emissions. The project is administered by CRP in partnership with the Greater London Authority, the Port of London Authority (PLA) and the City of London Corporation. The project aims to retrofit commercial freight and passenger boats to reduce their hazardous emissions, including particulate matter, nitrogen oxides and sulphur oxides by up to 90%.
The project complements the PLA's Thames Green Scheme which is an indicator that allows operators to demonstrate their environmental performance.
Successful applicants for Round 1 were announce earlier this year – they were GPS Marine Contractors for their vessel GPS Anglia, and the PLA for their vessel, Driftwood 2. According to John Spencer, Managing Director of GPS, "No reliable, affordable technology exists at present to take us straight to net zero. The way forward, therefore, is to improve the emissions from the existing fleet and do so in ways that are readily achievable and affordable".
The tidal Thames carries more passengers and freight than any other UK inland waterway. Vessels on the river account for approximately one per cent of emissions across Greater London. That number is expected to increase as standards for road vehicles become stricter, and the river is used to transport more people and freight.
For more information on the project and to download the application form and guidelines, please visit the Clean Air Thames project page or contact CRP Project Manager Sefinat Otaru. The funding is open to operators running vessels on the Tidal Thames within Greater London.