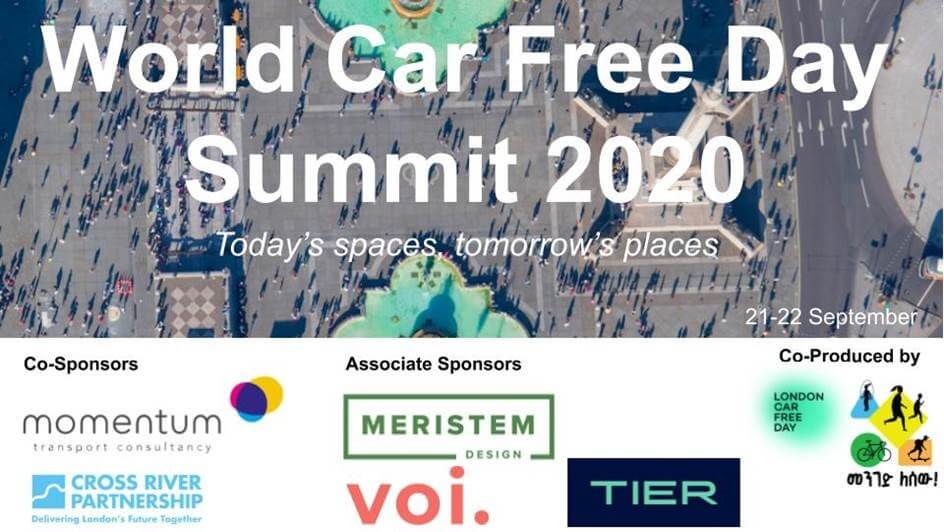 Car Free Day Summit
8th September 2020 / Posted by CRP Team
Don't miss the World Car Free Day Summit 2020! As cities around the world go car free to enable safe social distancing, now is a great time to be discussing future car free cities and a green recovery. With many Car Free Day activities being held safely online, CRP have contributed to a Digital Workshop Session associated with low emission freight, available 21st-22nd September, discussing zero emission logistics – the opportunities for scaling up and demolishing barriers to progress. Register here for CRP's digital workshop and more!
The World Car Free Day Summit 2020 is co-produced by London Car Free Day and Menged Le Sew, Ethiopia's Open Streets movement. Global leaders have committed to a future of zero emissions mobility and more efficient, equitable and productive urban land use. Action on these commitments cannot be delayed. Traffic injuries are the world's leading cause of death for young people and this year's Summit will examine the role of systematic traffic removal in both tackling air pollution and making cities safer for young people around the world. The Summit will bring together international civic leaders, architects, planners, data scientists, community organisations and land and property owners to celebrate the transition to safer, healthier, and more equitable traffic-free city centres and the 'Race to Zero' emissions mobility and land use.
For more information, please contact HSE Project Manager Fiona Coull.