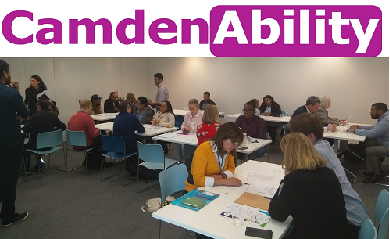 CamdenAbility Holds First "Meet the Employers" Event
17th October 2018 / Posted by CRP Team
CRP's CamdenAbility project recently held its first ever 'meet the employers' event, a reverse recruitment fair empowering its disabled jobseekers to meet and discuss employment opportunities with a number of local employers.
As a unique take on standard recruitment fair formats, the event instead put the spotlight on local jobseekers and encouraged employers to tour the room allowing every candidates the opportunity to discuss their work ambitions, skills and experience and employment prospects with every employer in attendance. The event was also an great opportunity for employers to meet disabled job seeking candidates from the local area, promote their organisations and discuss the accessibility of their opportunities.
The event was fantastically well received and featured a number of CamdenAbility network employers, including Camden Council and it's apprenticeships team, HS2, The Francis Crick Institute, Apleona and Wellcome Trust.
CamdenAbility is funded and supported by Camden Council and delivered in partnership with the Business Disability Forum. The project works in collaboration with a network of employers in the borough, raising the profile of local disabled job seekers through the creation of a range of work related opportunities.
If you'd like to more information about CamdenAbility, please contact Parma Sira.