CamdenAbility and the Francis Crick Institute
22nd November 2017 / Posted by CRP Team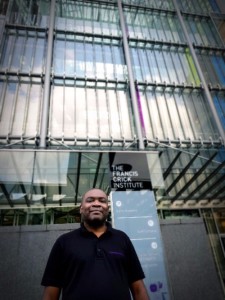 CRP's innovative disability employment initiative CamdenAbility delivered in partnership with Business Disability Forum, is funded by Camden Council and supported by the Department of Work and Pensions.
Apleona at the Francis Crick Institute has recently supported the project to recruit a new starter for their housekeeping team.
Apleona are a cleaning and maintenance contractor at the Francis Crick Institute in St Pancras.  They joined CamdenAbility in order to review their disability policy and work with the project to create a new recruitment strategy to attract local, job-ready disabled candidates.
Apleona agreed to implement a flexible approach and adapted their normal recruitment process, removing a number of barriers presented by the process for applicants with additional needs.  Rather than relying entirely on the results of a competency based interview, Apleona met with a local CamdenAbility candidate, Joseph, for an informal meeting, progressing to a short work trial where he was able to demonstrate his ability, and be assessed for the role.
Joseph, 39, has a learning disability and had never worked before registering with CamdenAbility in June.  After the successful work trial, he was offered a permanent position and began working.  CamdenAbility also supported Apleona by advising on small adjustments needed in order for Joseph to understand and fulfil his daily tasks.
On working with CamdenAbility on their recruitment, Sharon Guilfoyle, Account Manager at Apleona said:
"Joseph is a pleasure to have in our team, he is always smiling. Joseph works very hard. Working with CamdenAbility is an easy process. There is lots of support."
To find out more about the CamdenAbility project, please contact CRP's Specialist Workplace Coordinator Parma Sira.