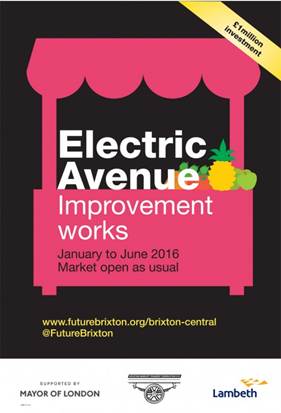 Brixton's Electric Avenue – Improvements Started
21st January 2016 / Posted by CRP Team
Supported by £869k from the Mayor's High Street Fund and £380k of Lambeth Council investment, improvement works have started on the iconic and much loved Electric Avenue in Brixton.
Programme managed by CRP Place Making Project Manager, Owain Jones, working for Lambeth's Regeneration Team,  the investment will deliver a much improved environment for the street market, shops, shoppers and local residents, boosting trade, making it easier for local people to shop and increasing visitors to the town centre.
 The improvements include new granite paving throughout, as well as improved street lighting, signage and drainage. New power supply, water points and hand held electronic payment systems will be provided for market traders.
By moving stalls to the centre of the street, market traders will also enjoy larger pitches and trading areas. Alongside the removal of the bollards and other street clutter, this will help pedestrian flow and should make it easier for elderly, disabled people, and those with young children, to move along the street.
The improvement works will be delivered in two phases to June 2016 to allow the street market to remain open throughout construction. Opening hours are as normal, Monday to Saturday 8am – 6pm, except on Wednesday when the market closes early at 2pm.
To find out more visit the Future Brixton website.