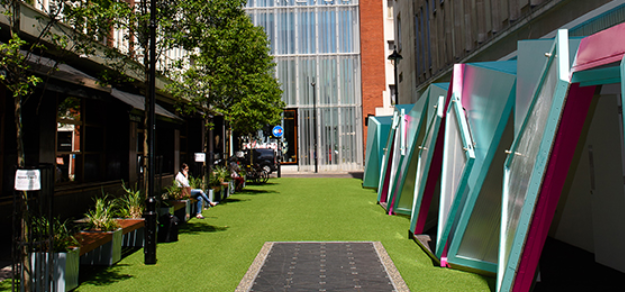 Bird Street… fresh air, ethical shops and bird song
19th July 2017 / Posted by CRP Team
New West End Company has launched the world's first smart street featuring a range of technology initiatives and retail pop-ups.
Bird Street, off Oxford Street has been improved into a 'traffic free, innovative, experimental outdoor retail and leisure space'. It is a collaboration between New West End Company and some technology and retail experts to demonstrate the sustainability of future high streets.
Bird Street features a rotating mix of retail, food and leisure pop-ups in addition to 'Pavegen', the electricity generating paving tiles. The street also has the 'CleanAir Bench' and initiative from Airlabs which allows visitors to sit and relax in a space of fresh and filtered air with real-time air quality monitoring technology on site. The pop-up retail units were painted with 'Airlite paint' which is able to purify the air of noxious gases and harmful bacteria.
New West End Company CEO, Jace Tyrrell: "The concept behind Bird Street is sustainable energy, better air quality and innovation."