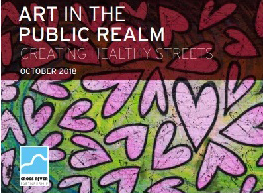 Art in the Public Realm: Creating Healthy Streets
17th October 2018 / Posted by CRP Team
At its Board meeting on 9th October 2018 CRP launched its most recent report, Art in the Public Realm: Creating Healthy Streets.
The report sets out the multiple economic, social and health benefits that art can bring to the public realm, through examples of what has already been achieved.
The report showcases projects from many of CRP's central London borough and BID partners. The aim is to inspire more projects by a wide range of stakeholders.
The report was commissioned by the Central London Sub-Regional Transport Partnership, funded by Transport for London.
Many thanks to Urban Movement and Out Design for their work on the report.
Please contact Susannah Wilks if you would like to order copies.