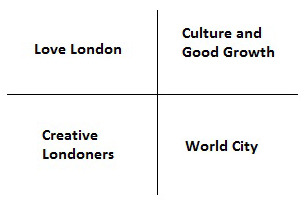 London Culture Forum
20th June 2018 / Posted by Sefinat Otaru
CRP recently attended the London Culture Forum workshop at London Councils with the GLA to discuss the recently launched Mayor's draft Cultural Strategy.   The GLA culture representatives presented the strategy, and facilitated discussions with attendees.
CRP is pleased to see that so many of the Mayor's other strategies were raised at the Forum including the Skills for Londoners Strategy and the London Environment Strategy; showing that culture is really embedded into everything that Londoners do.  In particular, CRP is keen to see more culture used to support the Mayor's healthy streets agenda to create interesting things to see and do in our public spaces, encourage walking, and open up new areas of the city.
The London Culture Forum is a fantastic collaboration of boroughs and cultural organisations that bring together the capital's expertise on culture.
The Forum's aims are to:
develop and promote local authority arts and cultural provision across the capital;
share information and good practice;
identify areas for collaboration;
support advocacy work for local arts and culture services;
embed a clear role for arts and culture in wider agenda.
The Forum's next meeting is 29th June 2018.
For more information on the London Culture Forum visit here.  For information on CRP's projects and partners supporting London's culture contact Susannah Wilks or Vicky Keeble.