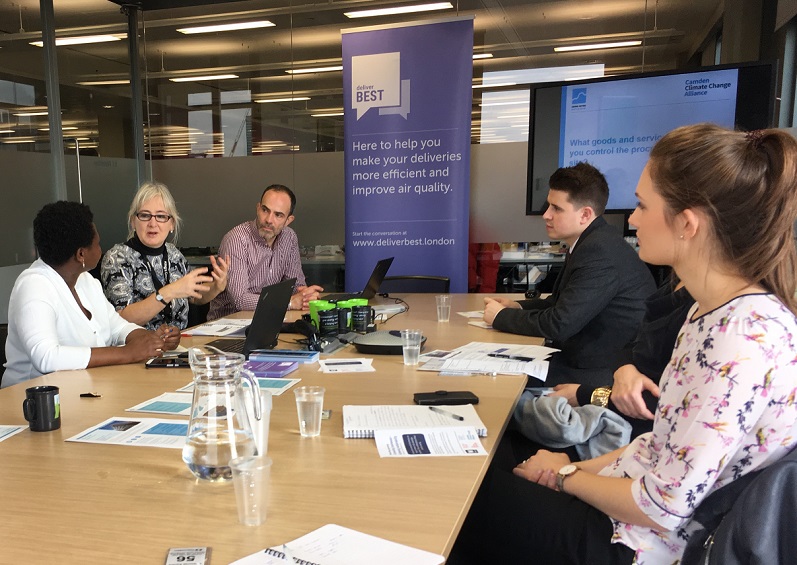 DeliverBEST Air Quality and Delivery Workshops
14th December 2017 / Posted by Sefinat Otaru
DeliverBEST Air Quality and Delivery Workshops
Central London's businesses play an important role in improving London's air quality, which far exceeds legal pollution limits. Mostly invisible, poor air quality has a detrimental effect on our health leading to respiratory diseases and thousands of premature deaths each year. In London, road transport generates 45% of nitrogen oxide (NOx) emissions.
Cross River Partnership holds Deliveries and Air Quality Workshops to help businesses explore ways to reduce the deliveries and servicing trips to their sites without a negative impact on their operations. Our recommendations save businesses time and money while reducing road congestion and toxic emissions caused by tyre and brake wear.
Our most recent workshop was held in partnership with the Camden Climate Alliance. Prior to the 1-hour workshop, attendees were asked to take a minute to complete the quick questionnaire on www.deliverbest.london allowing them to instantly receive customised recommendations that served as a frame of reference during the meeting. During the session, local businesses learned about the relationship between air qualities and deliveries, discussed best procurement practices to reduce deliveries and costs, and examined the issue of personal packages being delivered to the workplace. By the end of the meeting, we had identified actions both CRP and the business could take to implement changes at the businesses' worksites.
To learn more about CRP's workshops, email deliverbest@crossriverpartnership.org.