Click. Collect. Clean Air. reducing emissions with Parcelly.
30th November 2017 / Posted by Sefinat Otaru
Cross River Partnership's 'Click. Collect. Clean Air' campaign has been promoted to businesses and central London employees by over 20 business improvement districts and boroughs since launching a year ago.
The campaign promotes the use of Click & Collect services to reduce the number of missed deliveries and redirect personal deliveries from workplaces to parcel collection points closer to consumers' homes.
Delivery of online shopping to 'Click & Collect' sites helps reduce the number of vans on central London streets, reducing air pollution and making for a nicer, safer and healthier place to visit, shop and work.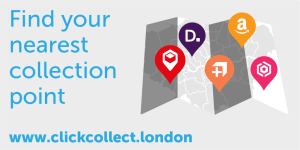 Central to the campaign is a unique website, www.clickcollect.london, which maps parcel collection points across London and the U.K. With hundreds of collection points from providers including Amazon Locker, CollectPlus, Doddle, Hub Box, InPost and Parcelly, the site makes it easy for online shoppers to find a convenient collection point close to home or along commute routes.
As part of the campaign, CRP worked with Parcelly to provide an introductory discount code (CLEANAIR) to encourage use of Parcelly's premium Click & Collect option.
CRP's collaboration with Parcelly provided some positive results including use of the 'CLEANAIR' promo code 3,466 times since the launch of Click. Collect. Clean Air.
Of the Click & Collect deliveries made by those using the code, 90% are now being delivered outside zone 1 & 2 where air pollution is the worst.
In addition, Parcelly have donated 5% per transaction to reduce the environmental impact which has offset 800kg of CO2 (see http://parcelly.com/live-green). This is in addition to emissions avoided due to the reduction in failed deliveries and fewer driver destinations resulting from Click & Collect deliveries.
With Black Friday, Cyber Monday and general Christmas shopping season upon us, be sure to choose Click & Collect for delivery and collection of online shopping. Find a convenient collection point at www.clickcollect.london. It's convenient, easy and affordable